Kendal Jenner opens her house for Architectural digest
Aug/30/2020 21:13:29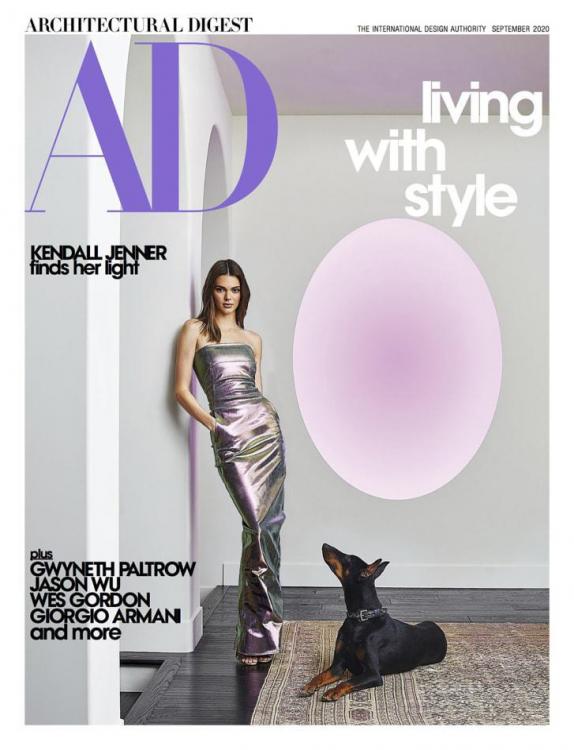 Kardashian-Jenner's are known for their lavish houses and residences. All the members of the clan are living alone or with their families in huge mansions in LA and they are absolutely not shy to show them off. Kourtney, Khloe, and Kim were among the first ones to document the renovations and designing of their homes right before the camera. Scott Disick, the father of Kourtney's kids also did show some footage of his house. Kylie, during quarantine and isolation, was also posting a lot of snaps of her gorgeous home and pool, and how she was spending her time with her daughter.
And now the time has come for Kendall. The supermodel, which became extremely popular and demanded a person in the fashion world, has now opened her doors exclusively for Architectural Digest. What could be immediately noticed from the moment you see her house is that it is far more toned-down than those of the other celebrities living in the area. Kendal has always looked more down-to-earth and looking for subtle, neutral tones and organic textures. Alongside the photoshoot, the world could see what her house looked like, what she is into and feel her vibe and style of the place she calls home, whenever she is in LA.
The home features contemporary touches such as custom sofas, colorful wall art, antique rugs, French chaise longue, and teak kitchen stools. Being on the cover of the September's issues of the magazine, she talks about how proud she has been about her renovated home and property:

"This is the first home I've done completely, and I think it's a genuine reflection of who I am and what I like. In the end, I'm still a young female in L.A., just trying to have some fun."
The interior designer Tommy Clements was positively surprised in the model's vision in home décor. He, alongside Jenner, worked also with Kathleen Clements and Waldo Fernandez. For the magazine, he told:
"Her taste was surprising, more bohemian and funky than the rest of her family,"
Kathleen also added:

"Being who she is, we though Kendall might gravitate toward something more flashy, more va-va-voom. I think we were all thrilled to discover that she has taste beyond her years."
The entire home and its look suggest one thing – Jenner is not a party person. In that direction, there are lots of warn and earthy tones. The ones on display are the art studio, the pool, and a master bathroom featuring a sleek brass tub. To add some playfulness to neutrality, there is some color too. The kitchen comes in teal, while the bath tiles are green. What was also were dominant was the defined taste in art that Jenner presented from her travel around the world and decided to incorporate that in the designing of her home. According to Fernandez:
"There are plenty of people we know who have traveled extensively and been exposed to so much but don't absorb anything. Kendall is different. She takes everything in and is confident about the things that resonate with her."
#Kardashian
Posted by Anonymous
See more blogs of Anonymous
Comment
khurram khan 2020-10-17 01:10;36
From now on I'll be using these ideas for my blog posts. Hopefully I get the results I'm hoping for – keeping my fingers crossed just in case. Thanks for posting this post! :)
https://www.gogle-news.com