JLo celebrated her 51 birthday on the beach with her family
Aug/25/2020 21:59:24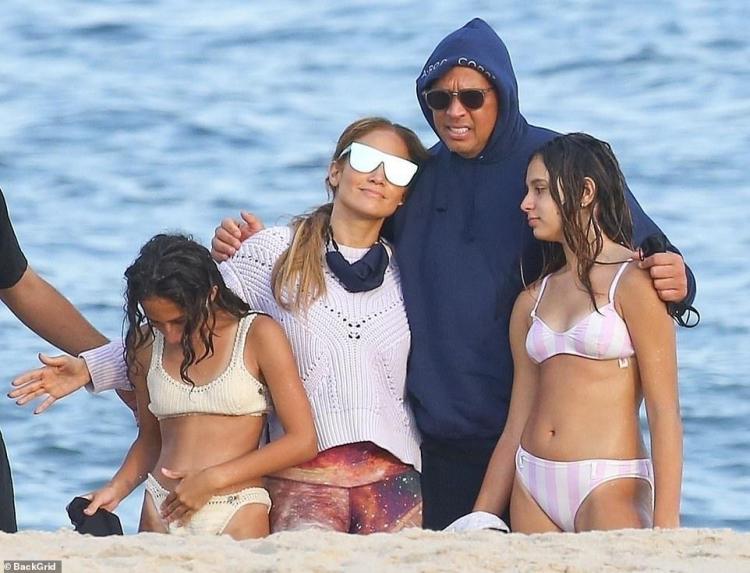 51 has never looked so good. And this truly goes without a saying for the pop diva JLo. The singer, dancer actress, mother, and fiancée to Alex Rodrigues celebrated her 51 birthday with her closest family. Due to the social distancing measures caused by the virus, JLO decided to switch the big birthday bashes with a day at the beach with her loved ones.
JLo and her blended family were spotted on Saturday, July 25 at the beach in Hamptons. The close family included the 12-year-old twins Emme and Max, who she had while being married to the singer Marc Anthony, Alex's kids Natasha,15 and Ella,12, and their friend Nick Silva. Cleary very cheerful and in good spirits, JLo was all smiling while she posed for photos with her family on the idyllic beach location.
Being in a relaxed and comfortable outfit, Lopez looked rather radiant and glowing in a pair of skintight cosmic leggings and a lilac knit sweater – an excellent choice for an evening on the beach. The outfit was completed with a pair of trainers, sunglasses, and an unavoidable black face mask, a must-have piece nowadays. No make-up and the hair pulled up in ponytail was her go-to look and she nailed. With the fabulous complexion she has, the years do not mean anything to the singer as it looks. The shape of her body and the looks are just a pointer on how the age does not matter. Her fiancée,45, was also dressed casually, wearing blackboard shoes with a navy blue hoodie. He spent time sitting with her on the sand, while the kids were wearing bathing suits and playing in the ocean.
Being the best Instagram boyfriend, Alex posted a sweet message for JLo's birthday on Instagram:
'Happy Birthday, Macha!!! Every moment with you is magical. You are the greatest partner, the best mom, the most amazing performer. A role model. A hero. An inspiration.'
Alongside this sweet message, he posted a throwback of photos from and with the actress.
Although there might not be a birthday cake at the beach, the family enjoyed some birthday ice creams. After the well-spent afternoon at the beach and lots of photographs, the family got all into Alex's blue Ford Bronco. JLo was wearing a bike helmet, probably cycling her way back home. After the birthday celebration at the beach, JLo took to Instagram to share her impressions:
"Exactly where we need to be ..."
Jlo and Alex started dating back in 2017, and their romance was quite Instagram official. Alex accompanied her to all the major events, which resulted in an engagement in 2019 when they were on a holiday in the Bahamas. Since then, they have bee functioning like a big and happy 6-member family with Jlo's two children and Alex's two children, all of them from previous marriages.
And she also did not forget her fans, thanking them with a post also made on Instagram:
"Thank you very much for all your beautiful birthday wishes!"
#Gossip
#Hollywood
Posted by Anonymous
See more blogs of Anonymous