Brooklyn Beckham engaged to Nicola Peltz - everything we know
Aug/25/2020 21:44:37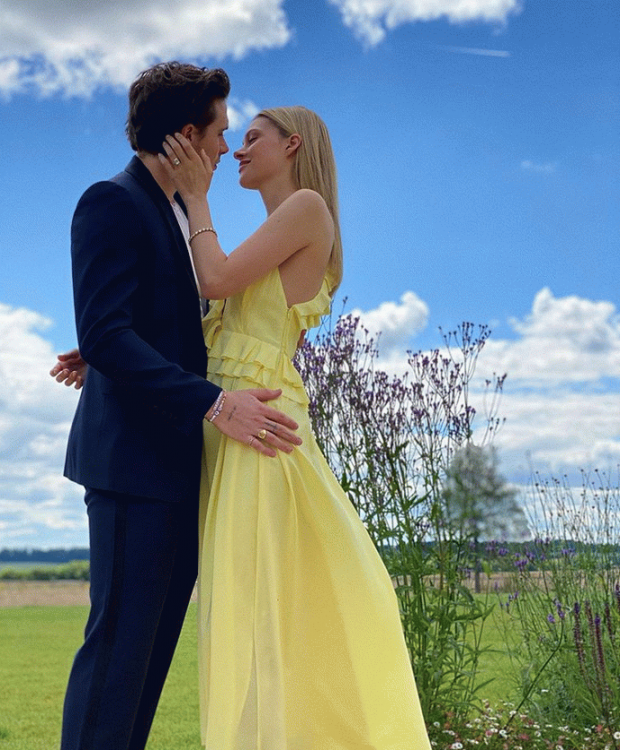 Beckham's family is growing bigger! The eldest son of the popular couple is getting married. Yes, you heard it right. Brooklyn Beckham has proposed to the actress Nicola Peltz and here is everything we know!
The fashion designer and the soccer star will soon become parents-in-law and their joy could not be more ecstatic. Their oldest son, Brooklyn Beckham has proposed to his girlfriend, and she has said yes. Both of them announced the happy news on their Instagram profiles:
"Two weeks ago I asked my soulmate to marry me and she said yes,""You've made me the luckiest girl in the world. I can't wait to spend the rest of my life by your side."
And that the future in-laws could not be happier, was confirmed by Victoria's post:
"The MOST exciting news!! We could not be happier that @brooklynbeckham and @nicolaannepeltz are getting married! Wishing you so much love and a lifetime of happiness 🙏🏻We all love you both so much x @davidbeckham @romeobeckham @cruzbeckham #HarperSeven 💕"
The proposal was sealed with a 4.5 – 5-carat diamond engagement ring that certainly costs somewhere about £250,000. The ring could be seen from the official photo on their Instagram feeds.
In January 2020, Beckham and Peltz made their relationship Instagram- official. First, a series of photographs appeared showing the image of the actress in a close-up style, and then, followed the photograph that made them Instagram official. The photo showed both of them, posing in front of a bathroom mirror. The mirror selfie, where Peltz wears a towel, was followed by a caption:
'"Happy birthday babe xx, You have such an amazing heart xx."
After that followed two photographs of actresses 25 birthday celebration, which was posted on her Instagram stories. In the photo, Brooklyn is smiling for the camera with a friend, in front of large pink, a white and purple cake that has been decorated for Peltz. On the other photo, Pelts is embracing her then-boyfriend now fiancé. The stories were followed by a sweet post:

They made me the most prettiest cake ever,'
The couple was first spotted in public when dining out at Craig's in West Hollywood. Peltz was carrying a bouget of flowers, while Brooklyn was very attentive. This was just before they went "official". Another photo that sparked the rumors that the couple was official was the one where Peltz stands in a black bra, in front of a mirror, while her boyfriend passes by, topless, staring at his phone.
Peltz is known for Starring in the movie The Last Airbender and the TV series Bates Model.
Before dating Peltz, Beckham was linked to several high-profile women. one of his most popular relationships was with the actress Chloë Grace Moretz that lasted almost 4 years, on and off, in the time between 2014 to 2018. Peltz had previously dated Anwar Hadid, and their relationship ended somewhere in May 2018.
Posted by Anonymous
See more blogs of Anonymous