Kim seen in tears after reuniting with Kanye
Aug/25/2020 20:28:12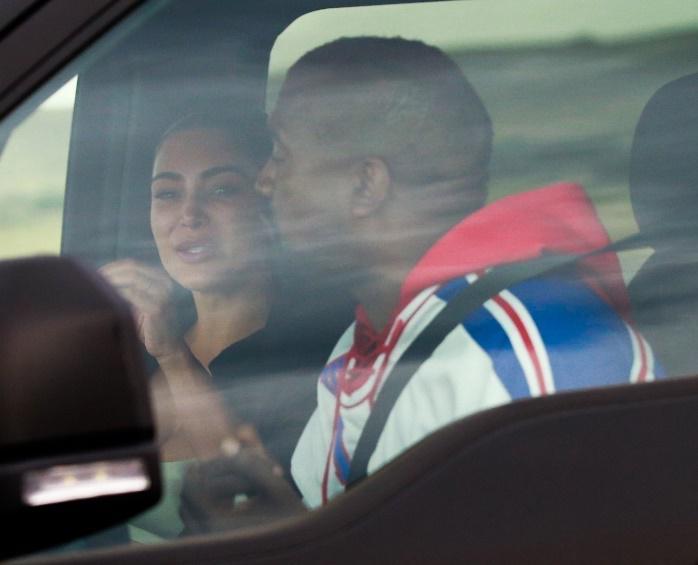 There is always drama around the Kardashian family. This time, the center of attention is Kim Kardashian. Although this is not the first time that she has been the center of attention, it is the first of this kind. Namely, she has been under attack for her husband's recent behavior that he demonstrated during the so-called Presidential campaign.
As we have written before, Kanye declared that he is running for president in the 2020 elections. Like a good wife, Kim supported him, with reposting his tweet. But the things soon got out of control, when Kanye lost it during campaigning. He made so many statements involving the Kardashian family, that Kim saw no other choice than to talk to the audience and turn the attention back to her husband, but this time, addressing his bipolar mental disorder.
Two weeks ago, Kim has reunited with her husband. Many sources tell that she has been exhausted and very hurt, but she got back with him. On the photos, the pair was seen in an intense conversation after Kim arrived in Cody, Wyoming. Also, she appeared to be crying as she spoke to her husband at the back of the car, several weeks after the social media incident.
"She has tried to reach him multiple times and he just ignores her."
– source revealed.
The sources reveal that the moment Kim arrived at the ranch, she and Kanye came out together in his car and that she has not seen him for weeks. To confirm her teary eyes, the source revealed that she has been hysterically crying and all of this has got her extremely emotional. This was the first time that the couple got together and seen in person after Kanye's tweet where he said that he has been trying to divorce Kim for almost two years. Of course, apologies followed after that one, and the world does not know what to think except that he does have a mental problem.
After the tearful meeting with Kanye, Kim flew back home to LA, alone, in a private jet. She was wearing matching grey sweatpants and sweatshirt, wearing slippers and a Birkin. She was not in her glam mood – on the contrary, her eyes were covered in huge glasses and her hair was pulled up in a messy top bun. Many sources tell that Kim has told her husband Kanye not to return to LA and their family until he felt more stable and calmer. According to a source:
"Kim knows he feels Wyoming calms him, and LA can be stressful. She's told him not to come back until he feels ready. In truth, I think she's trying to shelter their children from what's going on until he's better - she's super-protective of them. The children come first. She would never stop Kanye seeing his children but both parents want their kids to be unaffected by what's going on"
#KanyeWest
Posted by Anonymous
See more blogs of Anonymous