Dua Lipa's post found controversial
Jul/26/2020 14:13:43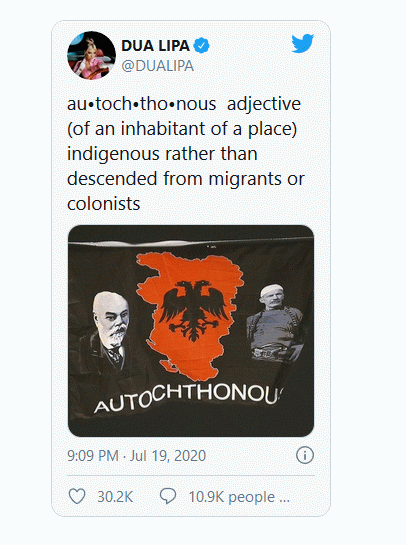 The British singer and pop star Dual Lipa has found herself in the middle of a social controversy after posting something that many taught was inappropriate and unsupported. Namely, the online tweet she made recently made the fans and many others think that she is associated with the supporters of extreme Albanian nationalism. She posted a photo of a map, that shows Albania, Kosovo, and parts of other countries, neighbors of Albania, as this new big country, with the definition of the word "
autochthonous
", suggesting that the Albanians belong there.
Minutes after the tweet was posted, it became strongly criticized. For those who are unaware, Lipa's parents are from Kosovo, and when she was born, they moved to the UK. But the true intention of Lipa's post was never revealed. However, she did post a follow-up statement, rejecting any ethnic separatism and addressing that it "
was never meant to incite any hate
".
Although this might seem just as some not so important post, it did become very important and made her a target of many critics and organizations. She was accused of favoring the Albanian expansionism by posting the map of so-called Great Albania, a territory that is made from the other neighboring countries where Albanians live. This tweet was also understood as her giving support for something that will incorporate all the ethnic Albanians together, in one new country and will make some great damage to the other countries.
This is not the first time that Lipa shares similar personal standings. Back in 2014, in a football game between Albania and Serbia, she openly brawled about the drone carrying the same flag over the stadium. That is a painful topic for many because of the long-term dispute between Kosovo and Serbia. Back in 2008, Kosovo declared independence from Serbia, which comes almost a decade after the Nato
#British
Posted by Anonymous
See more blogs of Anonymous